Sinsational
Features
The Hottest Entertainers in Town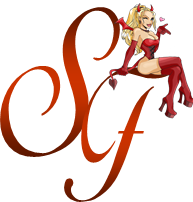 Sinsational Features™ is an Adult Feature Booking Agency having been in the business since September 2012. Sinsational Features™ has made enormous leaps and bounds in proving our ability to provide the best in adult feature entertainment to clubs and venues all over the country.

Sinsational Features™ received "2013 Agency of the Year" award at the Ponderosa Sun Club's "Miss Nude Entertainer of the Year", "Miss Nude North America", and "Miss Nude Galaxy" Award shows.

Owners Thomas and Deborah Hischak (formerly, Touring Feature Showgirl, Dakota Skye®), have a combined total of 11 years experience in the adult feature industry. "This is not a 9 to 5 industry and we believe neither should your agents be. We are available 24/7 to provide club owners, managers and entertainers with the help and support they need. We are an Agency you can count on all day, every day. Strong ethics and thorough communication with club venues and our entertainers allows our Agency to build long term relationships based on integrity and trust." - Thomas Hischak.

Sinsational Features™ provides what a club and entertainer needs to succeed that no other agency provides. This new dynamic will provide you, our client, an unprecedented level of service and commitment dedicated to the success of your event. If you are a club owner or manager and would like to book and entertainer or event in your venue, contact us, you won't be disappointed.

We represent the top names in adult entertainment. We strive to keep our website updated with the most recent and popular entertainers. However, there may be entertainers who have not yet been added to our site. If there is someone specific you are looking for, please inquire, chances are we can get that entertainer booked at your venue.
Denotes a Sinsational Features Exclusive Entertainer